Why You Should Always Rent ATVs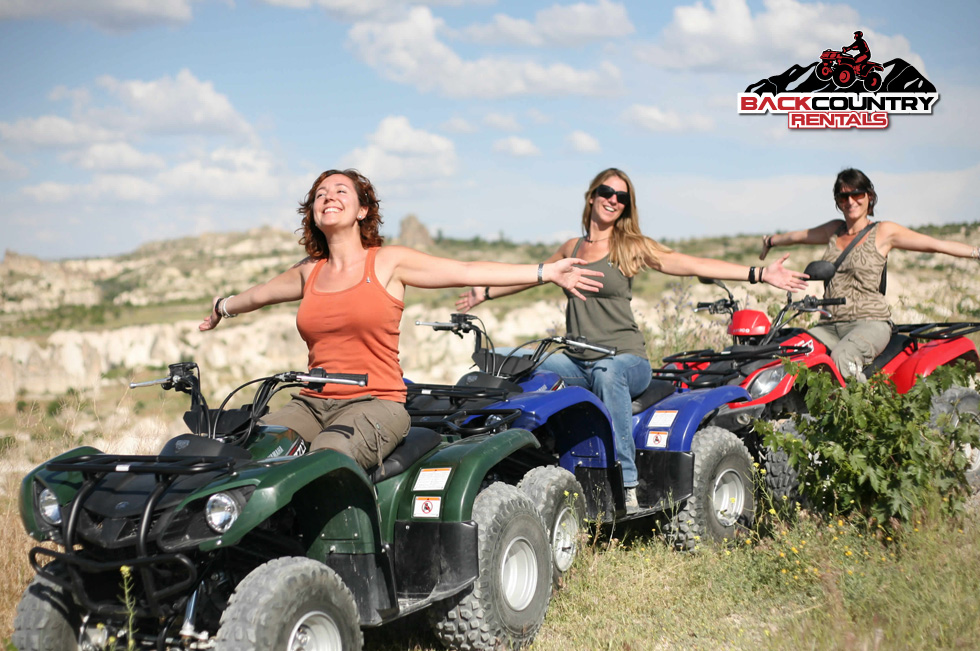 While much of our world is all about the digital age and all that modern tools and technology have to offer, there is nothing quite like being able to get away from it all, so to speak, by dipping out into the woods on your own ATV.
Jumping onto one of these all-terrain vehicles offers you the ability to go where it would be next to impossible to hike all on your own – bringing in a tremendous amount of supplies and all of your friends to remote locations to have a weekend or weeklong experience you'll never forget you
And that's exactly how our business started.
A bunch of guys, a bunch of ATVs, a little bit of beer – and a dream
It seems like only yesterday that a bunch of us skipped out from our urban lifestyles and jumped aboard ATV's to go out into the woods for the to a vacation. Packing in all that we would need to camp, hike, climb, and just in general enjoy all that the Vancouver wilderness has to offer (which, if you've never been, is one of the most naturally beautiful places on the face of the earth), we had finally settled in for the first night when we began discussing how incredible our ATVs really were – but also all of the shortcomings that come with ownership.
For example, one of the fellows in the group had an ATV that he had only used for times this last year – even though it was one of the more expensive top-of-the-line models. The next guy had always wanted one but was never able to afford it (forced to borrow some friends on a regular basis every time he wanted to use one). The third guy had the money to pay for a brand-new ATV cash, right up front – but nowhere to store the thing because of living in an apartment. The rest of us just shook our heads in agreement, understanding all of the perils and pitfalls that come with ATV ownership and how much of a hassle as they can really be – even though they offered us the freedom to enjoy the outdoors just as we currently were.
Somebody (at this point the beers had been flowing for a little bit) made an offhand comment about how fantastic it would be if they could rent out the top of the line ATV models whenever they needed them (included with all of the necessary safety gear and transportation of equipment as well) – and the idea for this very business was born.
Designed and developed from the ground up by a bunch of guys who absolutely live for the outdoors – and are really looking to give everyone has the same kind of varied and tremendous experiences that we've had without the pitfalls of ATV ownership – it should come as no surprise that this has absolutely taken off.
Exactly why you should always rent ATVs rather than pony up all of the cash upfront and then have to deal with storage, maintenance, and transportation
There are a tremendous amount of reasons that you'll want to focus on renting ATVs each and every single time you want to use these vehicles, with three of the most popular listed right here below. The truth of the matter is that anyone and everyone has the ability to been an ATV for the day, weekend, or week (or a whole lot longer if that's what you're interested in), leveling the playing field, so to speak, and allowing you to go places that you wouldn't otherwise be able to.
Renting ATVs is just flat-out fun without all of the other headaches and hassles
You get to enjoy the exact same experience of owning ATVs have moment that you decide to move forward with Vancouver ATV rentals – but without any of the headaches and hassles of maintaining, repairing, or upkeep involved with the investment of your very own a TV.
You'll be able to walk right into our shop, find the exact top-of-the-line model that you've been looking for (one that we have meticulously cared for and maintained to the highest possible levels), jump right on with a full tank of gas and head out in all of the trails at British Columbia, Whistler, and Vancouver have to offer.
Been all you'll have to do is bring her right back to us, and we'll take care of all the rest – allowing you to literally jump on and ride without having to worry about anything else.
Protect your hard-earned money with this ridiculously low investment
I don't know if it's been a while since the last time that you priced a full-blown ATV purchase – but they can quickly get into the tens of thousands of dollars price tags quite quickly. Not everybody has this kind of cash laying around to just snap up a brand-new ATV – and even if you did, the odds are very likely that you could probably find a better way to invest that money.
Well, renting ATVs through the right BC ATV rentals can give you the exact same kind of experience for the ridiculously low upfront price of a day, weekend, or weeklong rental – giving you the kind of top-of-the-line machine that you never would have otherwise been able to afford. This is all about performance and savings, the very best way to have your cake and eat it too.
You'll never have to worry about not being able to ride any time you want
The trouble with borrowing a buddies ATV or hoping to use someone else's ATV (or even purchasing your own and then never using it as often as you had hoped) is that there may be a day where you want to take your ATV out and find that it's simply not possible.
Luckily, using the very best British Columbia ATV rentals (like our own) as this will never be a worry for you. Promising that you'll have access to one of our high-end machines any day that you call (provided that you put in a proper reservation – though you should know that we have a full stock of ATVs in case you're just looking to walk in), renting ATVs is the best way to make sure that you have the machine you're looking for when you're looking for it.